Loads of companies are now using social media – applications like Twitter, LinkedIn, Facebook and blogs are transforming the way they interact with their market.
Are you using social media? Are you monitoring its effectiveness? I'm guessing you answered yes to the first question and went quiet, or whispered no to the second.
Blindly using social media without monitoring it is a bit like driving your car blind folded – your message is delivered quickly but it's likely to hit a brick wall any second.
In the olden days you only discovered there was a problem with your products or services when someone picked up the phone or wrote a letter to tell you – by which time it was too late and you were left trying to make amends.
But social media has opened up a new platform from which dissatisfied customers can vent their anger. The difference being, if you monitor it, you can jump on problems and solve them before they get blown out of all proportion.
By monitoring what's being said about you, you can:
Measure your effectiveness
Find out what people are saying about you and your business
Identify problems/opportunities and react quickly
Discover who are the leaders in your industry and what they are saying
How to monitor what people are saying about you
As my copywriting business is marketed solely online, I use a couple of tools to help me monitor what's going on:
Google Alerts
This is a great tool to find out what people are saying about you on the web. Your alert can be set up for any phrase – I have one set up for my name (Sally Ormond) and another on my business name (Briar Copywriting).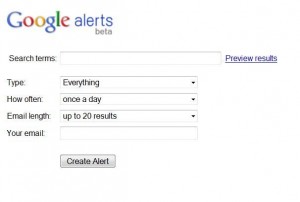 Google alerts emails me every time either of these search terms are found on  the web. 
Social Mention
Social mention is a real time social media search and analysis tool. Again you can set them up for specific search terms and you'll get an email alert whenever it crops up within the world of social media.
Why this is good to know
Today's online world makes it very easy for someone to write something derogatory, about you or your company, knowing it will quickly reach a massive audience.
So if you make the decision to use social media marketing it pays to keep one eye open. A lot of the biggest brand names are using applications like Twitter to find out what people are saying about them so, should anything go wrong, they can act quickly and in a personal way.
This pro-activeness will make you stand out from the crowd. You'll be seen as a company that listens and cares about its customers. And that's priceless.