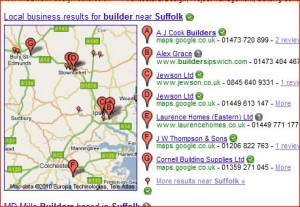 Does this look familiar?
This is the Google 10 box that appears at the top of your search results. It shows 10 local businesses that relate directly to your search term (so in this case it is builders).
Ever wondered how companies get listed here? Or haven't you given it much thought because you thought it was bound to be expensive?
Well here's a news flash for you – your Google Local listing is free.
If this is old news to you and you've already claimed yours, well done you've taken the first step to boost your online visibility. But how are you using it?
Have you just claimed it and left it at that?
This listing is a great free marketing tool for your business.
When creating your listing you'll have the opportunity to add video, photos, receive customer reviews and list events. All sorts of data that can be used to enhance your SEO.
Utilising all of these tools will help generate more business for you. And you can also manage its effectiveness through its analytics making it a tool that is:
Versatile
Free
Interactive
You can enhance it by getting customers to write a review, list new offers and events to keep it fresh.
It's free so make the most of it.