The days on the Yellow Pages and Business Pages are fast diminishing. More people today turn to the search engines to find local service providers and products.
Therefore getting to grips with local search has never been so important. How geared up it your website and online marketing activities up for local searches?
The best way to make the most of your local search potential is to own as much of the web as possible.
Boosting your online presence
One of the best ways to boost your profile online is to increase the number of web pages you have. That doesn't mean to say you need a hulking great big website that'll cost a fortune, but rather a number of pages that relate to your business.
Let me explain.
You can use the power of other websites to increase your online presence. This can be through using Web 2.0 sites such as Squidoo or Hub Pages or other 'directory' style sites such as www.myProSpot.com.
This is just one example of a 'directory' style website you can utilise to boost your online presence. It allows you to add your company details as many directories do,but by becoming a Platinum member (the site also offers a free membership) you can grab yourself a micro site for your company.
Here's the one I set up for my freelance copywriting business. Now, not only do I have my own copywriter website, but I also own more of the web through my myProSpot web pages.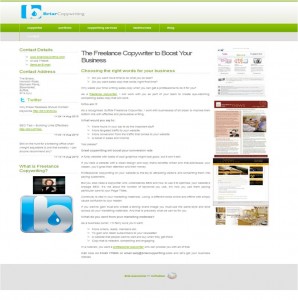 These sites are brilliant for local businesses because they allow you to own much more of the web cheaply. Not only will it help with your SEO, it also has great features such as customer feedback – so you can compete against the big boys through your feedback.
About 40% of all small businesses don't have a website
Considering the online age we're living in, that's a very scary statistic. But why should it be like that? Even if you don't have the budget for a stand-alone site right now, utilising a site like myProSpot will get you online – fast.
t really is worthwhile looking into setting up profiles on sites such as this one – there are plenty out there.