Can a copywriter really help you with business card creation?
You bet they can.
The humble business card is often seen just as a way of leaving your contact details with someone and therefore they rarely fulfil their potential. In reality the business card should be seen as a mini marketing tool.
Just as you'd carefully consider the contents of a brochure or website, the layout, contents, strapline and use of space on your business card is important if you are to create something that's eye-catching and memorable.
All too often business cards are anonymous rectangles of card with a few words printed in them – instantly forgettable.
There are two sides to every story
Many people forget there are two sides to every business card. The space on the back can be utilised to show the services you offer, product images…

….or, as I have done, as a space to insert a photo of yourself. When networking you're going to collect a lot of business cards so by adding your picture to yours it will help people remember you.
Plus, by listing the services I offer I avoid the conversation that goes along the lines of …
"Oh, I didn't realise you did that as well. If I'd known I would have called you."
The reverse side of your card can be used for many purposes:
List of services (as above)
Images of your products
Your USP
An offer
Your picture
Testimonials
I'm sure you can probably think of a few more.
Make an impact
Although many business cards are white that doesn't mean that's the only colour they can be. Utilising colour is another way of generating interest and getting your card (and you) remembered. Whether you go for something soothing and pastel or bold and vibrant, the colours you use can say a lot about your business.
The market you are aiming for will be reflected in your colour pallet – heritage colours (burgundy, dark green etc.) for the more serious professions (e.g. Solicitors, Accountants etc.), bright and vibrant colours for 'cool' businesses (e.g. Design agencies, IT etc.).  Of course that doesn't mean to say you have to abide by that, I dare say there are many trendy accountants out there who would benefit from a bright, eye-catching business card design too.
Don't be square
Just as you can play with the colour of your business card, why not play with the shape as well.
Just because most cards are rectangular that doesn't mean that's the way they have to be. Stand out from the crowd by using different dimensions or shapes: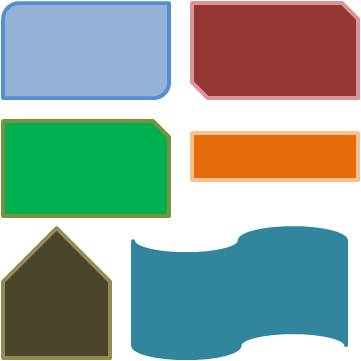 Interactive cards
Be really quirky and have a business card you can fold into a card that stands up or even into a box shape. Maybe it has a slit in it to hold something – the pizza restaurant Zi Zi is very good at that. Your bill arrives slotted into a business card.
There are lots of ways you can use colour, shape and clever functions to get your card and you noticed.
Where does the freelance copywriter come into all of  this?
Well, we may not be designers, but we are very  good at coming up with straplines and succinct ways of putting your marketing message across.
This post was inspired by an entry I found on dailyblogggr.com. Here are the 36 brilliant examples of business card designs they identified. It's amazing the impact such a small piece of card can have – they really can be a very powerful tool in  your marketing armoury.